Skolemoden,
syvåringen og tekningen,
å tenke i symboler,
lek og læring,
læring,
flyt og tenkning,
Mihaly Csikszentmihalyi,
undervisning,
forfatter R.R. Kile, Cand Ed med rådgiver kompetanse
Å være skolemoden.

Skolemoden, syvåringen og tenkningen. I vår tid begynner unger på skolen når de er seks år. Ungene er ikke modne for det. Skolene er ikke modne for det. De plasserer unger på pulter. Seksåringer er ikke modne for å sitte på pulter. De skal leke komplisert rollelek. Det bidrar til å utvikle en rik tenkning i symboler som gjør at syvåringene er klare, veldig klare, for da mestrer de lek på innsida av hodet.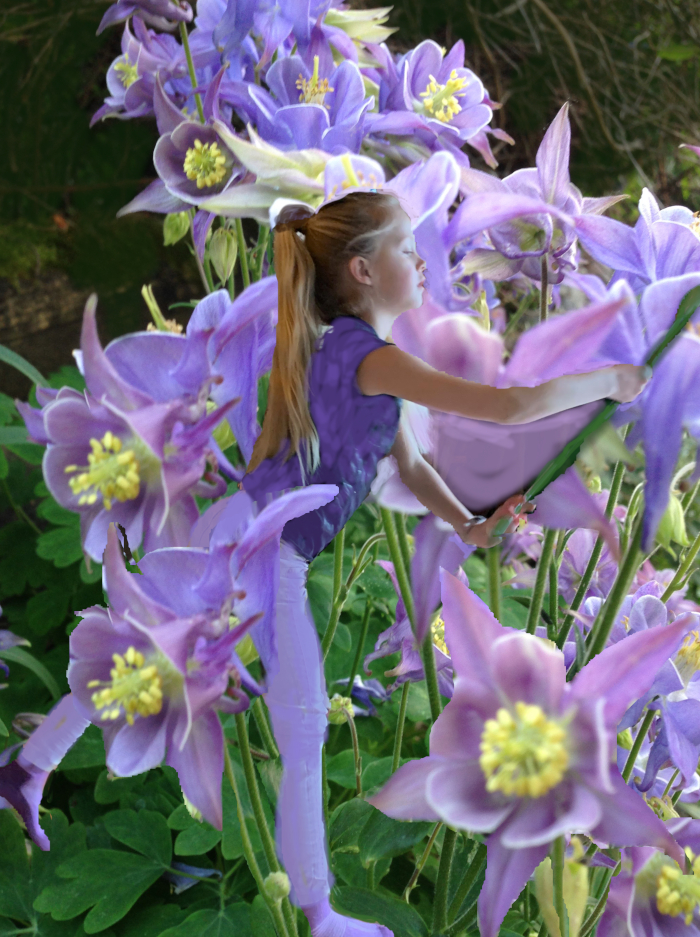 Min mormor, Bøssa kalte jeg henne, hun elsket blomster.
Som lita jente gikk jeg i hagen med henne. Hun la ned frø i meg som blomstrer den dag i dag Jeg elsker Hagen, sysler med blomster, vår, sommer og til langt ut på høsten. Inne også. Overalt er det grønt. Det vi gjør sammen med ungene har betydning langt utover her og nå.De gode opplevelsene ligger i minnene. Senere søker vi mot dem, som bier mot blomsten, fordi det var godt.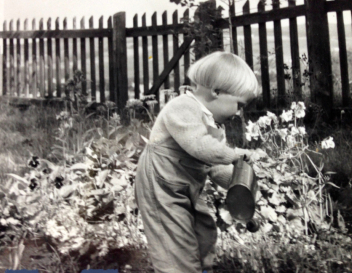 Syvåringen er klar for klasserommet.
Den indre scenen er klar. Syvåringen vil gjerne være elev, bli opplært. Syvåringen leker på innsiden av hodet og er stolt over å kunne det. Tenkningen er utpreget konkret, men i syvåringens verden har fortsatt en magisk karakter.
Flyt er lettere å oppnå når man putter en dose magi inn i undervisninsstoffet, gjør det eventyrlig. Bokstaver og tall, som får fortellinger knyttet til seg, blir lettere å huske. Unger som tegner og skriver fra noe de er tent på, lager flotte produkter, også husker de det bedre. Vinn/ vinn i positive spiraler. Jeg har ikke tall på hvor mange fortellinger jeg har skrevet og fortalt om bokstaver og det norske språks mange utfordringer.

Pluss, minus, gange og dele.
Terp og terp. To hauger som skal legges sammen. En haug som blir borte fra en større haug. Flere hauger med likt innhold som skal telles sammen. Lett som en plett. Det heter visst gange. En haug som skal deles ut til et visst antall folk. Å dele med seg, divisjon på fint.

Stolte skoleklasser som sitter i klasserom og lærer og lærer. På innsida av hodene skjer det. Tenk den som kunne titte inn på innsida av alle de hodene! De ville vi møte en hel verden. En gang møtte jeg telledvergene. De var så heldige at de kunne telle gitt. Det var det ingen andre som kunne. I hvert fall ikke lenger enn legemsdelene rakk.
Telledvergene tok på seg oppgava å lære menneskene kunsten.
De valgte seg ut to svært kloke – og flinke barn, Talia og Numero. Talia og Numero lærte alt sammen videre til alle sine menneskesøstre og menneskebrødre. Derfor ble vi så overmåte kloke at vi en vakker dag kunne frakte folk over land og hav, over by og land og like til månen.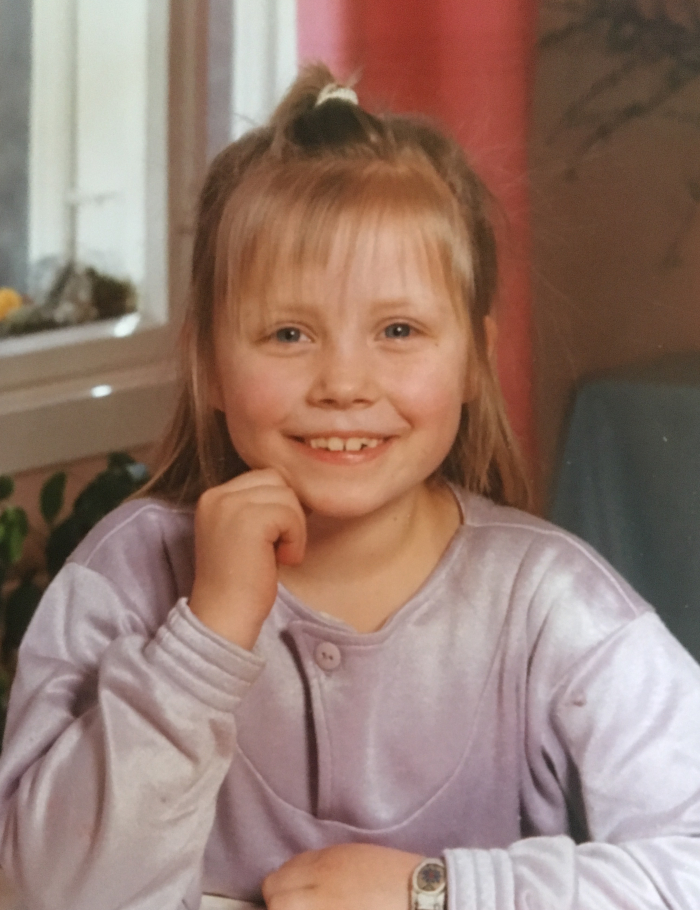 Telledvergene sanker steiner.
Det er deres jobb. Herr Pluss er en makelig herre, en ekte livsnyter, nøye med alt han foretar seg. Han rer sin seng, nyter sin frokost og sørger for mat til alle. Han rydder etter seg.
Nøye og omstendelig plukker han hver eneste stein han kommer over og putter dem i to store lommer. Når han kommer hjem, teller han den ene haugen, så den andre haugen. Hvor mange ble det til sammen? Det spennende øyeblikk. Ja, si det du. Han har både glidelås og belte, for han orker ikke klær som ikke sitter ordentlig.

Herr Minus er en evig pessimist.
Egentlig synes han ikke det er noen vits i å stå opp. Dagen kommer til å bli fryktelig uansett. Herr Pluss har sikkert ordnet en usmakelig frokost.
Herr Minus har også store lommer i dressen sin. Støtt er det hull i dem. Han mister steiner hele tida på grunn av de hullene. Det er ingen vits i å sy dem igjen. Det kommer til å bli hull igjen med en gang.
Han er særlig opptatt av hvor mange steiner han plukker, så han kan holde telling med hvor mange han mister. Han har belte i livet. Dersom han finner noen steiner som ikke er så fine, lar han dem ligge igjen til Herr Pluss. Han tar jo alt uansett.

Herr Gange er en lystig kar.
Han hopper ut av senga med energisk iver. Klærne må på i en fart. Beina feil og armene feil. Høyre fot i venstre sko. Bukseselene er i kryss så det ikke skal bli helt kaos. Midtpunktet er sikret med en knapp så alt skal sitte på plass. Den har herr Pluss ordnet med. Han gidder i hvert fall ikke å bare plukke en stein om gangen sånn som herr Pluss og herr Minus driver.
Hver morgen bestemmer han seg for hvor mange han skal plukke om gangen denne dagen. Det må være samme antall så klart. Da kan han telle det antall han måtte bøye seg så vet han hvor mange steiner han har. Lurt og effektivt begge deler. Det er et slit å bøye seg, men han vil gjerne at herr Dele skal bli fornøyd.
Han har så mye å drive med, Herr Gange, mye morsomt.Det gjelder å være effektiv, skal han få tid til alt sammen
Herr Dele er sjefen, den som deler ut godene.
Han sitter i fjellhula si der skattekammeret er. Dit kommer de andre telledvergene og avleverer dagens fangst. Alt blir nøye protokollført. Herr Dele sjekker ut hva menneskene trenger. Han sørger for å gi dem akkurat det. Hvis han har tolv safirer og fire jenter som ønsker seg dem, hvor mange får de hver da? Det er utallige muligheter for de behov som finnes i verden. Ja, for han har gull også.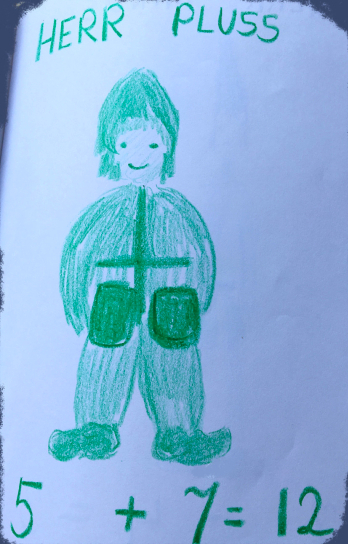 Sånn blir det latter og smil og mange motiverte barn.
Syvåringer har lyst til å lage en mengde stykker ut fra slike historier. Noen lager enkle stykker. Andre lager stykker av en vanskelighetsgrad langt utover alderen. Det er helt det samme så lenge alle regner, forstår og lærer. Nye spennende fortellinger hver dag om disse folka som får ungene til å sprenge grenser for hva de forstår.
Så er dag er de ferdige med Talia og Numero og telledvergene. De beveger seg videre mot nye kunnskapsarenaer. Tilbake ligger en bunnlinje i kunnskapsbasen, noe hukommelsen kan knytte seg til og som en kan ty til på senere klassetrinn når det plutselig butter. For ungene glemmer ikke telledvergene eller Talia og Numero, eller alle de andre fortellingene som har engasjert dem.
Begrensningen ligger i lærernes evne til levendegjøre dem samt fortelle engasjerende historier.
Dette kan gjøres på hundre forskjellige måter. Poenget er at man må ta hensyn til syvåringens særegne vesen. Når jeg leser om skoleelever som er utslitte, blir jeg dårlig. De skal ikke være utslitte, men fulle av tiltakslyst og livsglede. Ikke noe er så spennende som å vandre på læringens frodige veier.